1st Person Enhanced
Armor
Better Clothes Textures
Creatures addendum
Piratelord's Creatures 9
Dwemer Ruins
Weapons
Adamantium Claymore
Ice Blade of the Monarch
Umbra
Carrot Weapon
QUEST
Greater Dwemer Ruins
MISC
Companion Selene
DNGDR resources
DN Splash Screens
Damgd Dwemer Furniture
LINKS
Elders Scrolls Home
Bethblog
Other Modder Sites
Timeslip's mods & utilities
PirateLord
Wrye Musings
Yacoby's Morrowind
Great House Fliggerty
bjam's Morrowind
Vality7
Mod Hosting Sites
Planet Elders Scrolls
Elric Melnibone
GAME TWEAKS
Darknut's 1st Person Helms
This is the first mod I released to the public .. I was such a noob at scripting I still can't believe it works!

This adds a 1st person view to default helmets in Morrowind, Tribunal & Bloodmoon
This requires Morrowind Graphics Extender (MGE)by Timeslip.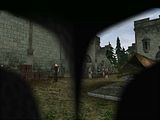 Darknut's 1st Person Enhanced
This mod replaces the 1st person animations with the 3rd person animations, the result being quite a spectacular change in the way the game feels.
This mod also make it so you can see your chest when you look down at the ground.
Idle animations
Beast animations
New Male 1st person animations
New 1st person view
DOWNLOAD at PES
If you do... If you don't
It all good