MISC MODS
Darknut's Companion Mod Version 1
This is a companion I used to test "companion" compatibility of DNGDR.

Selene is a level 15 Breton Battlemage that is a Blades Operative. She can be found in the Balmora Fighers Guild.

This a Standard Morrowind Comes Alive companion & MCA 5.2 is required.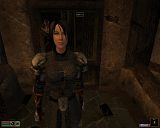 Darknut's Greater Dwemer Ruins Resource
This is a Modding resource only .... none of these objects are placed in the MW world.

This resource consist of the bulk of the meshes I made for DNGDR & most are scratch made models
created by yours truly, but some are modified Morrowind meshes.

With most of this stuff it will be obvious what its for & I will endever to explain the one's that are not obvious.

Feel free to use these on what ever MW project you want Just give me credit where credit is due.
Darknut's Damaged Dwemer Furniture Resource
Darknut's Damaged Dwemer Furniture Resource

The name says it all & this was requested in the TES forum.

This is a resource only & the meshes are not available "ingame" only in the CS.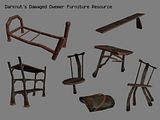 Darknut's HD Spash Screens